Mattress Buying Tips
Mattress Buyer's Guide
A new mattress is a worthwhile investment if you're interested in upgrading your sleeping experience. Modern mattresses are specially designed to promote max comfortability, support, and restfulness.

When you invest in a new mattress it's best to ensure that you purchase a mattress that is properly sized and designed such that it supports your sleeping style. Additionally, you'll want to confirm that the mattress is supported by a sturdy base, and includes an acceptable warranty as well as reasonable shipping costs. Once you've weighed out those considerations, you'll be able to determine whether a innerspring, foam, hybrid, latex, or airbed mattress is the best fit for your sleeping needs.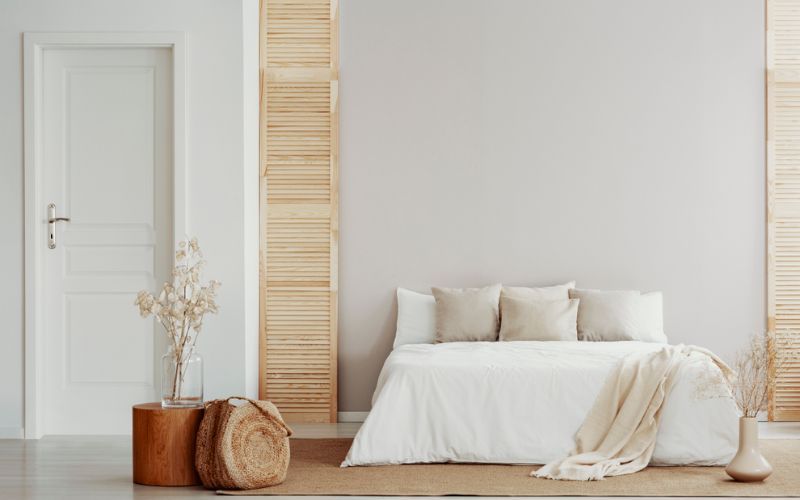 SIZES

Mattresses come in Twin, Twin XL, Full, Queen, King, and Cal King sizes. The height of a mattress is determined by measuring, in inches, from the bottom, where the mattress rests on the box spring, to the top of the mattress including any pillow tip. The length of the mattress, in inches, is measured from the head to the foot of the mattress. Lastly, the width of the mattress, in inches, is measured from one side of the mattress to the other.




The Twin mattress is best for young kids that are still growing. The Twin XL mattress is best for single sleepers that are over 6 feet tall or children and teens that are still growing and could end up being over 6 feet tall. The Full mattress is a great pick for growing children and single sleepers that have narrower floor space. The Queen mattress is great for single active sleepers, as well as couples and anyone who might occasionally share a bed with their children or pets. The King mattress is able to provide sufficient legroom for most people, but anyone who is over 6'4 may want to opt for the California King mattress. Last, the California King mattress is best for taller people, or for bedrooms that feature narrow designs, and thus need a slimmer mattress.
QUALITY

Design
Companies invest their resources in developing specialized patented designs that can help support cooling for hot sleepers, stability for sleepers in need of extra back support, and exceptional cushioning as well. Look at our comparisons between each mattress's standout features to better understand how each mattress functions. Every mattress brand puts considerable time into their respective mattress designs to ensure the best possible sleeping experience for you. Some brands will place their design focus on comfort, while others will focus on support or cooling. Make sure that you account for what kind of sleeper you are before you purchase your new mattress.
Materials
The different design types of mattresses are an innerspring, memory foam, hybrid, mattress in a box, and an air mattress.

Innerspring: The innerspring mattress is structured in an open coil style. An innerspring mattress includes an interconnected collection of hourglass-shaped coils. There is no material that is wrapped around these springs. Most often there will be a sole layer of foam and fabric positioned on top of the inner coil structure.
Memory Foam: The memory foam mattress is primarily made out of memory foam which consists of polyurethane with additional chemicals that are intended to increase the mattress's overall viscosity and density. The foam bubbles in the mattress are designed to be open, which allows for maximal breathability.
Hybrid: The hybrid mattress is a multi-layer mattress that combines memory foam, latex, and/or latex with an innerspring system.
Mattress in a Box: The mattress in a box is usually a foam mattress that is rolled up and compressed, packed into a box, sold online, and then shipped directly to your door.
Air Mattress: The air mattress is an inflatable mattress that is made out of polyvinyl chloride (PVC), textile-reinforced urethane plastic, or rubber. When the air mattress is deflated it can be folded up and easily carried or stored.

The most common mattresses are innerspring, foam, hybrid, and latex mattresses. An innerspring mattress's materials include foam, latex, cotton, wool, and/or polyester. Next, a foam mattress's materials include memory foam, poly foam, latex, cotton, wool, and/or polyester. Then, a hybrid mattress's materials include memory foam, poly foam, latex, cotton, wool, and/or polyester. Last, a latex mattress consists of latex.

Firmness
A mattress's firmness represents how hard or soft the mattress feels to the user. Various factors that can impact a mattress's given firmness include the materials and overall construction of the mattress.

Extra Soft: An extra soft mattress will sink noticeably and mold to your body.
Soft: A soft mattress will provide notable sink and mold to your body as well.
Medium Soft: A medium soft mattress will provide decent sink and mold to your body.
Medium: A medium mattress provides less sink, but still molds effectively to your body.
Medium Firm: Medium-firm mattresses aren't designed to sink as much, but they are still able to mold effectively to your body.
Firm: A firm mattress will hardly provide any sink nor will it mold as much to your body.
Extra Firm: An extra firm mattress has close to no sink as well as no molding to your body.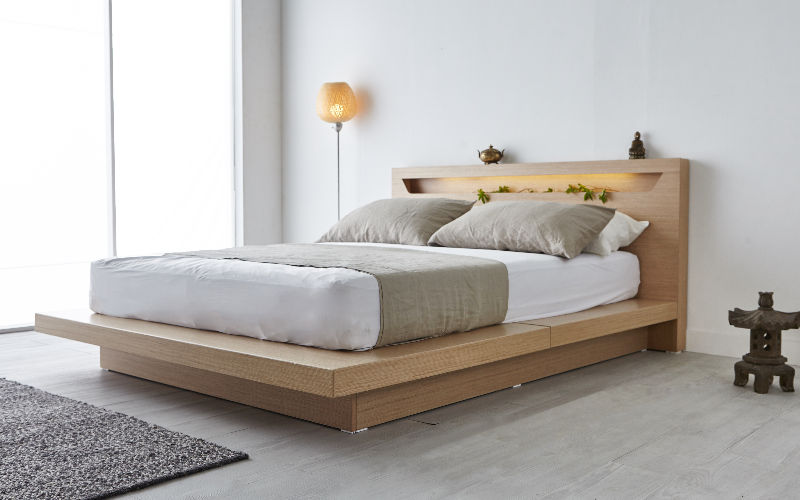 CUSTOMER SUPPORT

Shipping
Depending on which company you order your mattress from, you will be able to benefit from fast shipping, free returns, and white-glove delivery service. White-glove delivery service means that the company will send a carrier to your home and they will bring the mattress into the room of your choice, unbox it, and then complete any assembly that's necessary.


Trial Period
A mattress trial period is designed to let you thoroughly test your new mattress by sleeping on it. In general, return policies when it comes to mattresses typically are limited by a small window of time. However, most mattress trial periods can last up to four months (or longer in certain cases).


Warranty
A mattress warranty represents a commitment on the part of the mattress manufacturer to refund you in case your mattress ends up having a manufacturing or product defect. Not all warranties are the same. Read the fine print in terms of what scenarios your warranty covers for your mattress, and check how long the warranty lasts.



Certification
A mattress certification signifies that the mattresses and textiles don't contain nor will they release any dangerous chemicals. Every component (both inner and outer materials) of the mattress has to meet the chemical restrictions for the mattress to earn the certification.
Financing Options
Mattress financing is a process where you pay for your mattress over an agreed upon period of time, instead of paying for your mattress upfront. You can finance your mattress by using credit cards. Make sure to ask the mattress merchant whether or not they have a required credit score to be eligible for financing your mattress.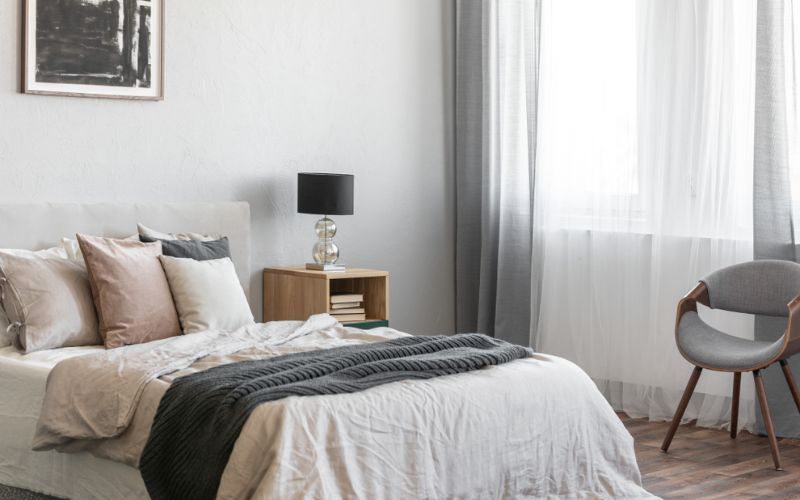 FEATURES

Bases
A mattress base (or foundation) is a support that you place directly beneath your mattress. A base holds your mattress up and can come in the form of a metal bed frame or an elegant bedstead with a wooden headboard, footboard, and slats.


Adjustable Base:An adjustable base can be easily moved around and eventually placed underneath your mattress. The majority of adjustable bases prop your feet and head up to alleviate pressure points that'd otherwise be present on your back and neck. An adjustable base generally works the best with memory foam, hybrid, and individually wrapped coil mattresses.
Bunky Board:A bunky board ranks as the lowest-profile option, and hardly adds any height to your sleeping surface. A bunky board is generally made out of wood, plywood, or MDF and is cut down to be the same size as your mattress. The wood is then wrapped in fabric so that it protects your mattress, and reduces the possibility for any sliding. A bunky board is oftentimes the most affordable option when it comes to adjustable bases. A bunky board works best with bed frames that have seven or more slats across the bottom, memory foam mattresses, and thicker, pillow top mattresses that already provide notable height.
Box Spring:A box spring is a wooden frame. A box spring is as big around as your mattress and is eight inches high. Located within the mattress are metal coils that will give a little whenever you sit or lie on the mattress. A box spring is usually covered in fabric so that it matches your mattress. A box spring will work best with bed frames that have six or fewer slats across the bottom, and all styles of mattresses.
Accessories
Some mattress companies will include accessories, while others will only include the mattress with your purchase. Some common accessories that come with the purchase of your new mattress include box springs, seasonal bed sheets, a bed skirt, bed railings, and mattress pads and toppers. Just because your mattress doesn't include any accessories doesn't mean that you won't have the option to purchase additional accessories to further enhance your experience with your new mattress.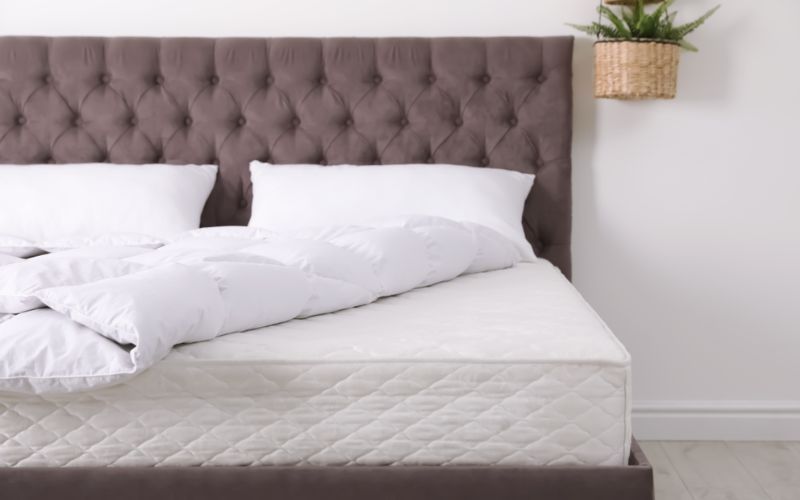 FAQS

How do you properly clean the mattress?
You will want to make sure to consult the mattress manufacturer's instructions on how you can properly clean the mattress without running the risk of damaging any of the mattress materials. With that being said, the instructions might call for a special cleaning formula or state that you can simply use water and vinegar to spot clean any stained areas on your mattress. 

Does the mattress provide back support?
Whether or not your mattress provides back support will ultimately depend on what kind of mattress you purchased. For instance, memory foam or certified natural latex orthopedic mattresses are generally referred to as the best options for reducing back pain by promoting better posture, increasing blood circulation, and ensuring even bodyweight distribution.


Will the mattress keep you cool at night?
If you're a hot sleeper and interested in purchasing a mattress that will keep you cool at night, then you'll want to direct your focus to mattresses that feature pocketed coil systems as well as gel-infused memory foams. A disconnected pocketed coil is able to allow for more air to move through the interior of the mattress, which works to keep the other layers cool and ventilated throughout the night. Then, the specialized gel-infused memory foam further enhances the cooling effect.